A Sterling Plumbing Blog
Plumbing Articles from Columbus, OH
The Complete Guide on How to Unclog a Drain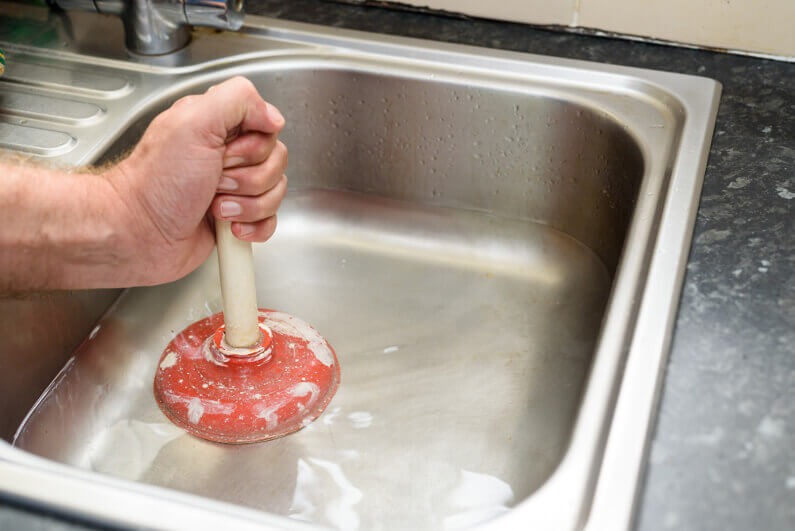 Just under 50% of residences in Columbus are lived in by homeowners. That means that of all of the housing in Columbus, a little less than half don't have a landlord responsible for day-to-day malfunctions.
In other words, a lot of us have to fend for ourselves, which means that we could stand to learn the basics of DIY maintenance and troubleshooting!
One of the most important things for any homeowner to know is how to unclog a drain. You never know when you'll find yourself with a backed-up sink or shower, and you don't want to be caught in the deep end when it happens!
Read on to learn more about how to unclog a drain, including a few things that you're going to want to avoid doing, and when to call a plumber.
Go Fishing
All sorts of stuff can gunk up your pipes over time. It's not unusual for hair to build up into a ball and start trapping other grimy substances like oils, toothpaste, and more. What you end up with is a big wad of waste that water struggles to drain through.
Using a flattened wire hanger or, preferably, a plastic drain snake (found at most home stores), it's time to start fishing. If possible, remove the cover or plug from the drain and feed your device slowly down into the pipe. When you feel resistance, don't push.
Instead, use a scooping motion and try to pull the gunk up and out. If it's too dense, don't keep poking at it. The last thing you want is to push the clog further down into the pipe.
Break Out the Wet Vac
This method isn't foolproof, but if you have a wet vac handy, it's worth a shot.
Place the hose of the wet vac over the drain and try to create as much of a seal as possible. Turn on the wet vac and hold it steady for up to five minutes. If the clog isn't pulled loose and sucked into the vacuum, it may be a sign that the clog is too large or deep for this method. When that is the case it may be best to call a professional drain cleaning company.
Mix Up Some Baking Soda and Vinegar
Natural remedies are always worth a shot, as long as you know what to mix together and what to avoid.
In this case, you're going to want to grab some baking soda, a base, and vinegar, an acid. Mix even parts of baking soda and vinegar together–we recommend using a ratio of 1/3 cup to 1/3 cup. As soon as it is mixed, it will begin to fizz and you'll want to pour it down the drain right away.
Hopefully, the chemical reaction that occurs will help to eat away at the clog so that it starts to break apart. If you desire, go back in with your fishing tool after pouring the mixture down the drain.
Get the Kettle Boiling
In some cases, all you'll need to break down a clog is a little bit of boiling water. Use a kettle or stockpot to boil several cups of water. Be careful when you carry it to the bathroom!
Pour the water slowly in two to three stages. Because the sink is still clogged, you don't want to pour all of the water at once, or it might overflow. Repeat this process as many times as needed until the clog appears to disintegrate.
Clean Out the P-Trap
If you're willing to get a little bit messy, you may want to try cleaning out the P-trap. The P-trap is a curved pipe located below the sink. The first thing you'll want to do is empty out the cabinet and place a bowl below the P-trap in case any water or grime comes out.
Use a wrench to loosen the slip nuts on either side of the P-trap and remove them by hand. Then, remove the P-trap and dump out any contents into the bowl. You may also need to use your fishing tool or an old toothbrush to clear any remaining debris in the trap before rinsing it and reattaching it.
Start Plunging
Plungers aren't just for toilets! If the clog is thick, the suction from a plunger may be able to break it up and pull it close enough to the surface that you can fish it out. When plunging a drain, you're going to use the same tactics as plunging a toilet, so don't worry about learning any new techniques here!
Skip the Chemicals
It's tempting to head to the store and purchase some chemical-filled drain cleaners. The problem with that, however, is that these chemicals aren't always safe to use.
For starters, caustic chemicals can wreak havoc on your pipes. While they'll almost certainly clear up the clog, they may also cause your pipes to start corroding. Believe us when we say it's a lot more costly to get all new pipes than it is to clear out a simple clog.
In addition, a lot of these chemicals are dangerous to the people in your home and any pets you may have. Getting these chemicals on your skin can cause chemical burns and breathing them in can cause serious respiratory problems. These risks are heightened if your bathroom or kitchen doesn't have adequate ventilation.
Don't Know How to Unclog a Drain? Call a Plumber
It's a good life skill to know how to unclog a drain. However, sometimes you just don't have time to learn–or the clog is too tricky for your DIY methods.
If that's the boat that you're in, don't sweat it! All you need to do is find a plumber in Columbus, Ohio, and we know just the plumber to call. Contact A Sterling Plumber and Drains to unclog your drains today!
Serving Columbus, Grove City, Gahanna, Reynoldsburg & Surrounding Area's
© 2018-2022 ASterlingPlumbingColumbus.com
– All rights reserved. –
Information on this website may not be re-used without prior written consent from A Sterling Plumbing.
Monday-Friday: Open 24 Hours
Saturday: Open 24 Hours
Sunday: Open 24 Hours
Ohio Licensed, Bonded, Insured
OH Plumbing Contractors License # OL-26324