A Sterling Plumbing Blog
Plumbing Articles from Columbus, OH
These Are the Most Common Garbage Disposal Problems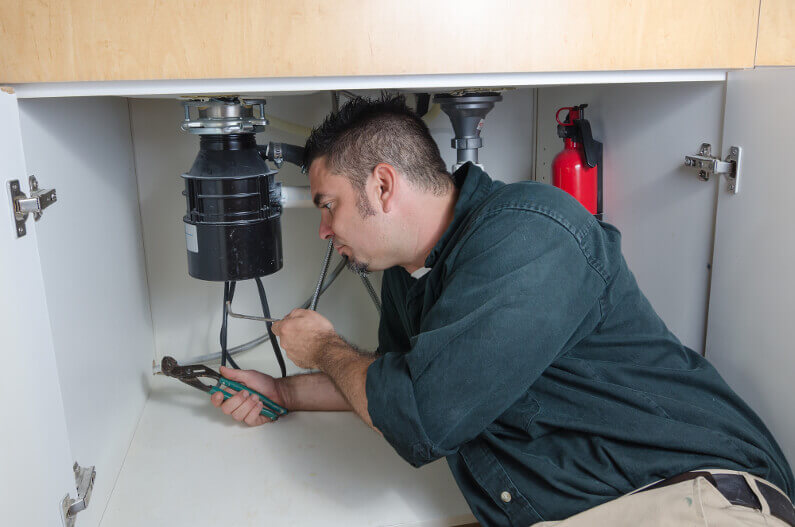 Your garbage disposal is one of the most important appliances in your home. Keeping it in good working condition will ensure that you prevent a plumbing disaster, thus making your life easier.
Just like with any other appliance, it is not uncommon to encounter some problems with your disposer. This is because the more you use it, the more the problems you may incur. Therefore, it is important to know some of the common garbage disposal problems and how to prevent and quickly fix them before calling your plumber.
Here are some of the problems that you are most likely to come across.
Garbage Disposal Not Turning on
If you flip the switch and do not hear the motor humming, either the electric power is not reaching it or the disposal motor is damaged. The disposal may also not turn on if the overload protector is tripped.
To quickly fix this, start by checking if it is well plugged in. After that, press the reset button, which is located at the bottom of the unit. If the reset button trips, push it back in, and this will reset the unit.
If this does not work, check if the circuit breaker has tripped. You will find the circuit breaker at the main service panel and then reset it. If this does not fix the problem then you might be dealing with a damaged motor or a wiring problem.
You may want to call your expert plumber if these solutions do not fix the problem.
Jammed Garbage Disposal
When you switch on your garbage disposal and it hums but does not work, it is probably jammed or is not getting enough power. Fibers or any other object can get caught between the shredding ring and impellers, causing it to jam.
To fix it, switch the power supply, and then check the disposer using a flash flight for any foreign objects like cutlery or toys and pull them out. Do not use your hands. Instead, use a pair of tongs or any other tool.
If there is no foreign object, then the jamming can be due to underground food objects. To fix this, turn off the power and run a broom handle or thick dowel to free up the impellers. After that, turn the power back on, reset it, turn the water on, and then flip the disposal on and off a couple of times to clear it.
Clogged Drain
Clogged drains are a very common plumbing problem in American homes. Do not be surprised if your disposer is clogged. Some of the main causes of disposal clogging include:
Failing to flush water
Disposing of the wrong food wastes
Adding to much food waste at the same time
If your garbage disposal unit is not draining, you should disconnect the drain tap and remove it from the discharge drain. Clean out the clog or use a sink plunger and water to force it out. Remember to flush the pipes with hot water once you have managed to unclog it.
Some disposers come with a hex hole. If your disposer has one, you can insert a quarter-inch Allen wrench into the hole and rotate it until you can turn the blade thoroughly. If the sink fails to drain, it is probably time to look for a drain cleaning services provider near you.
Leaking Disposal
Your disposal can leak from the top just below the flange, bottom, and side. Top leaks are mostly caused by improper sealing of the disposal with the sinkhole. Over time the gasket and sink flange can become damaged, and this causes them to leak.
The putty sealing can also loosen with time and leak. To fix a top leak, you may have to replace the gasket and flange.
Side leak occurs because of poor connection with the dishwasher connector or the drainage pipe. If the leak is coming from the dishwasher connector, remove it, clean both the connector and the pipe, then reconnect using the metal clamp.
If the drainage pipe is leaking, disassemble the drainage pipe and clean it. Replace the rubber gasket, because there is a high chance that it is damaged and then reconnect them. Always ensure that the connections are properly sealed.
Unfortunately, if your disposal is leaking from the bottom, you may not have a solution for it. Damaged internal seals mainly cause bottom leaks, and fixing them is not worth your effort. You may have to replace the disposal.
Disposal Backing up Into the Dishwasher
This problem is common with garbage disposals that are connected to the dishwasher. It is common if the dishwasher line was not well installed. If the dishwasher drain does not have an air gap or high loop that is mainly designed to prevent backflow from the garbage disposal, you will also experience a backup.
Make sure that you place the high loop above the sink flood line to prevent backflow. You can also choose to use an air gap device. Some states have made this mandatory.
Dirty or Smelly Disposal
You use your disposer to dispose of food leftovers. It is normal for some tiny food particles to stick to the walls of the disposer or drains, causing a bad smell. To get rid of the smell, pour like a half cup of baking soda into the drain, followed by a cup of vinegar.
Heat the vinegar in the microwave for a few minutes first before pouring it. Allow the soda and vinegar to sit for a few minutes, then pour some boiling water to flush it all down the drain. After that, chop up one lemon or lemon peels and feed them through the disposal.
Watch Out for These Common Garbage Disposal Problems
These are some of the common garbage disposal problems that you are most likely to encounter at home. Remember, if your disposer is more than seven years old, you may want to consider replacing it because old disposers tend to develop more problems.
Here at Sterling Plumbing Sewer and Drain, we can take care of all your plumbing problems, including your garbage disposal. Having been in business for almost twenty years, we understand everything it takes to make sure that your drains work well.
If you need an expert plumber, get in touch with us and talk to our technicians today.
Serving Columbus, Grove City, Gahanna, Reynoldsburg & Surrounding Area's
© 2018-2022 ASterlingPlumbingColumbus.com
– All rights reserved. –
Information on this website may not be re-used without prior written consent from A Sterling Plumbing.
Monday-Friday: Open 24 Hours
Saturday: Open 24 Hours
Sunday: Open 24 Hours
Ohio Licensed, Bonded, Insured
OH Plumbing Contractors License # OL-26324