A Sterling Plumbing Blog
Plumbing Articles from Columbus, OH
How Does Plumbing Work in Your Home: A Basic Guide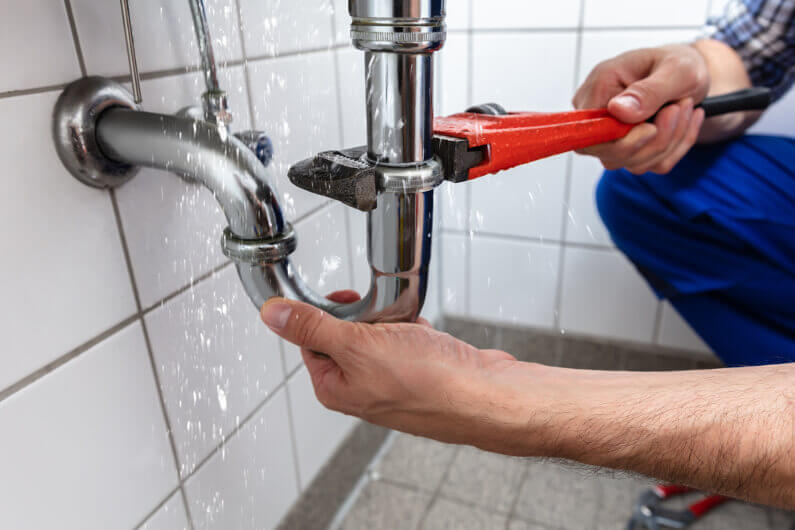 Most people can live their whole lives without thinking about their home's plumbing system.
They're usually the first ones to suffer when the magical water —as it appears out of nowhere— that flows from their taps stops coming through.
Knowing the ins and outs of your plumbing system can help you in a variety of ways. Starting from knowing which pipes are causing you problems, to the advanced levels of putting on your fixer-upper hat and fixing the small problems.
So keep on reading if you want to know how does plumbing work with a focus on the residential plumbing logistics.
How Does Plumbing Work?
Contrary to popular belief, your plumbing is set up in quite a straightforward way.
There are two main categories to the plumping system. The first is the water supply system for the incoming clean water. The second would be the drain-waste system that's responsible for taking the unwanted water away.
The trick about figuring out what a source of a plumbing problem is identifying the right system. Knowing whether it belongs to the intake water supply system or the drain-waste system can save you a lot of heartache.
The Intake Water Supply System
This system is set up to circulate water from your main valve into your home.
If you live in a city, then the city water is most likely in front of your home, and it'll be buried in the street.
A good thing to keep in mind is that this incoming water will be flowing in under high pressure to get to all the different sections of your house.
The water will come through what is traditionally called the "main," which is an enormous pipe that is laid parallel to your street.
If your main source of water is through a wall, then you'll probably need a pump to provide higher water pressure for your faucets and taps.
Components of the Intake Water Supply System
There's a shutoff valve on both sides of your water meter. This would make it simple to shut down the incoming freshwater if you're doing repairs or need to get a toilet replacement or repair service at your home immediately.
By acting as a gatekeeper to incoming water into your house, it's the understatement of the century to state how important it is to have a solid plumping configuration for your water intake system.
Your system will need to have a dedicated pipe for freshwater only, and its job is to take that freshwater to your water heater.
With newer home construction, you'll find that tankless water heaters reign supreme. Because of their space convenience compared to the traditional tank water heaters, they are much more popular.
Having a well-functioning water intake system means getting clean instant water (whether hot or cold) everywhere in your home.
In addition, this freshwater needs to have sufficient pressure to accommodate showers, wash-ups, toilet flushing, laundry washing, and a million other water-based tasks.
The Drain-Waste Water System
Now that we addressed how your home would get incoming water, the second part of the process would deal with the removal of unwanted wastewater.
So after taking a tour around your house, the ex-freshwater now needs to be removed from your residence.
Unlike with the water intake system, it's not water pressure that'll eliminate the wastewater. Here, it'll be gravity that'll take over in the drain vent system.
You'll find that all the pipes and hardware in the drain-waste system will be angled downwards to allow gravity to pull the wastewater out of your home.
And, you'll also notice that your home's drain-waste system is way more complex than the straightforward pipes of the water intake system.
Components of the Drain-Waste Water System
The system is made of multiple vents, traps, and other clean-outs that aid gravity in its job. For example, you'll see vent pipes sticking out above your roof shingles. And there will be traps under every sink you have in your home.
These traps will help stop any valuables from literally going down the drain into the sewage system, like rings and other jewelry. This is why traps are "U"-shaped.
Once the wastewater makes it outside of your house via a waste pipe, this water will be transported to a sewer or a septic tank.
Adding to the drain-waste water system components, they must include a cleanout plug of some sort. These plugs are designed so that your plumber can unclog your pipes by removing stubborn waste materials.
Another thing to keep in mind is the size of drain-waste pipes. They are thicker, as they're in charge of carrying out not only waste water but other waste materials.
If you have an older house, then you might have to keep an eye out on your shutoff valves, because experts believe that your house probably needs more valves in the system, so you can isolate problems instead of shutting off the main.
Basic Plumbing Tips
There are a couple of things you must keep in mind to keep your plumbing system as healthy and well-functioning as possible.
The drains should be near the vent system to keep the water waste flowing smoothly.
This tip might sound obvious, but it's key to know before tackling any issue in your plumbing system.
Before you try to DIY your way through a problem, shut off the water supply at the main to avoid either flooding your house or getting a nasty surprise if you're having a problem with your drain-waste system.
Ready to Have Your Plumbing Taken Care Of?
There you go. Now, you know about the plumbing system and all about how does plumbing work. So, you're in a good place to identify which system might be causing you problems.
However, some issues might need professionals' help, whether it's getting some desperately needed plumbing repairs done, or even remodeling your kitchen and bathroom.
So check out our services for all of your plumbing needs!
Serving Columbus, Grove City, Gahanna, Reynoldsburg & Surrounding Area's
© 2018-2022 ASterlingPlumbingColumbus.com
– All rights reserved. –
Information on this website may not be re-used without prior written consent from A Sterling Plumbing.
Monday-Friday: Open 24 Hours
Saturday: Open 24 Hours
Sunday: Open 24 Hours
Ohio Licensed, Bonded, Insured
OH Plumbing Contractors License # OL-26324