A Sterling Plumbing Blog
Plumbing Articles from Columbus, OH
5 Main Benefits of Professional Water Heater Installation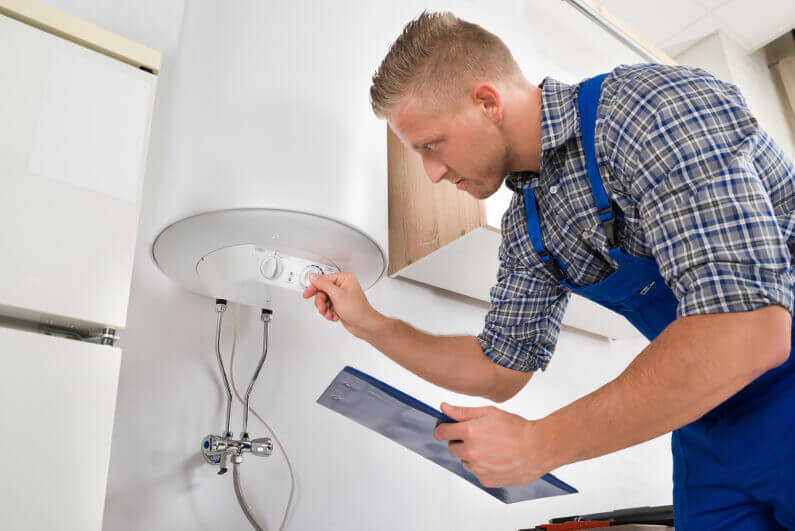 The first, rather crude, residential water heater was patented in England in 1868 by Benjamin Waddy Maughan. It was a far cry from the efficiency of the modern water heater, but it was a start. People were tired of heating water in buckets for their baths and were ready for anything to make that easier.
Now, the only time you worry about the absence of hot water is when your heater isn't working. You may be able to get away with repairs, or you may need a new heater altogether.
What if you need a new one? Should you replace it yourself?
Let's look at the advantages of professional water heater installation to find out.
1. Professional Advice
There are several benefits to calling a professional to handle the installation of your water heater. One of the biggest ones is being able to ask for professional advice.
Not sure which model water heater to choose? There are many different options. Choose from a variety of heat sources, tank sizes, and more. A professional can guide you to the model that will work best for your budget and needs.
Not sure at what temperature to set the water? Different water heaters have different ideal temperature ranges. Run a water heater outside of its ideal range and it will be using up more energy than necessary and possibly even shorten the lifespan of the unit.
Setting it at the max of your unit's range isn't always a good idea either. Set it too high and you run the risk of scalding yourself. Plus, households with children should have it set even lower for safety's sake.
Don't forget to ask about preventative maintenance. A professional can recommend a proper maintenance schedule to follow for your unit as well as give you tips on how to care for it. This will help lengthen the life of your water heater and save you money over time.
2. Correct Installation
The most obvious benefit of using a professional installer is that it will be done correctly, the first time. Do-it-yourself videos on YouTube are handy, but what happens when you run into something that the video doesn't talk about? You can't ask questions.
Incorrect installation can lead to water leaks or using up extra energy. Both of these will cost money in wasted utilities. If you don't notice the problem and fix it, those extra bills can pile up quickly.
On top of that, imagine what can happen if your unit is leaking and you don't notice for a while. Mildew and mold can begin to grow, not to mention the damage the water can cause to the structure of your home.
Even worse, incorrect installation can damage the unit. Then you'll be stuck with a repair bill. If the damage is bad enough, you'll have to buy a new unit altogether. Either way, you'll end up spending more money than you would have on having it installed professionally in the first place.
3. Safety Standards
Every type of water heater has its own safety standards with which to comply. Standards vary depending on whether your unit runs on gas or electricity and whether it has a tank or not.
On top of that, local governments may have certain codes that you have to meet for the installation to be legal.
You won't get all the information you need for this from a YouTube video. Maybe you can find one installing the same model that was filmed in your area. The chances of that, however, are quite slim.
4. Save Time
You might think that it will only take a couple of hours on a Saturday afternoon to install your new unit. That's probably true — if you know what you're doing. If you don't, you'll be stuck there until well after midnight trying to figure out what you're doing wrong.
Your time is worth something too. Have a professional take care of it quickly and you can take your kids to the park for a fun afternoon instead.
5. Peace of Mind
Say that you decided to install your new water heater yourself. You slogged through a few YouTube videos, made a few false starts, but you finally finished the job.
Are you sure you did it right?
Many of the problems that we've mentioned, like burning too much energy or springing a leak somewhere, might take a while to notice. By the time you discover the problem, you could already need a few hundred dollars in repairs.
Even if you did the installation right, you might lay awake at night worrying about it. You're not a professional, you can't be sure that you did do it right.
Having a professional install your water heater gives you the peace of mind that you deserve. Isn't avoiding a few sleepless nights absolutely worthy of hiring a plumber?
Professional Water Heater Installation
The good news is that professional water heater installation is easy and more affordable than you might think.
All you have to do is contact us! We proudly serve Columbus, Ohio and its surrounding communities.
We'll help you pick out the right size and type of unit for your needs. Then we'll install it to meet the codes and safety standards of your unit and for your area.
You can rest easy knowing that you don't have to worry about your water heater anymore. You can take a shower and wash the dishes without giving that heater another thought.
Contact us today to get started!
Serving Columbus, Grove City, Gahanna, Reynoldsburg & Surrounding Area's
© 2018-2022 ASterlingPlumbingColumbus.com
– All rights reserved. –
Information on this website may not be re-used without prior written consent from A Sterling Plumbing.
Monday-Friday: Open 24 Hours
Saturday: Open 24 Hours
Sunday: Open 24 Hours
Ohio Licensed, Bonded, Insured
OH Plumbing Contractors License # OL-26324