A Sterling Plumbing Blog
Plumbing Articles from Columbus, OH
All Types of Pipes: Why Plumbers Use Specific Pipes for Different Jobs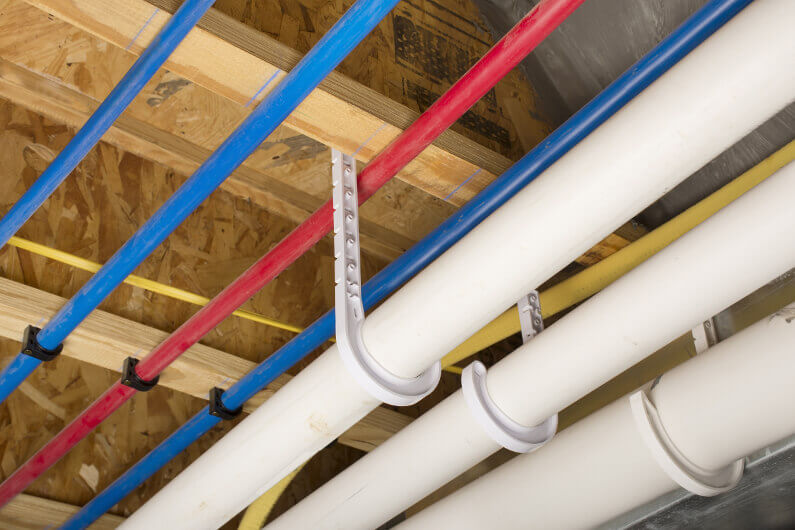 Did you know that the plastic pipe industry is valued at over 19 billion dollars?
Plastic piping has certainly carved out a market for itself, but there are many types of pipes and each has a special purpose.
Knowing which pipe is right for your job means you first have to know what kind of options are available.
Check out our quick summary of pipe types and their uses!
Types of Pipes
Copper is one of the most popular materials for piping, along with various kinds of plastic pipes. Other metals are also used in special situations.
Rigid Copper Pipe
Rigid copper is often used for the water lines in our homes. Since it is rigid, a copper water pipe has to be laid in mostly straight lines, using elbow fittings for any turns you need to accommodate or obstacles you need to go around.
Both rigid and flexible copper pipes provide excellent resistance to corrosion and durability. Properly installed, copper piping can last you over 50 years before needing to be replaced.
Flexible Copper Pipe
Flexible copper pipe has the same resistance to corrosion as its rigid counterpart, but it's not as durable. Designing the pipe to be flexible allows you to more easily lay it through complex twists and turns, but at the cost of wearing out a little faster.
The ease of installation for flexible copper pipe also means lower installation fees if you hire a professional to do it. Or it could mean an easier job if you do it yourself!
Copper pipes, whether rigid or flexible, are considered a quality option, and they can increase the value of a home.
PVC Pipe
PVC pipes are a kind of plastic pipe that come in white. They are often used for residential water and drainage systems.
They are also used by farmers for irrigation and other businesses to hold underground wires. Some people use PVC pipes for making tents or other simple structures.
PVC pipes are relatively rigid, maintaining their structure with a minimum of support. They are strong up to temperatures of 140 degrees Fahrenheit, a lower heat tolerance than polypropylene pipe.
This makes a PVC water pipe suitable for cold and warm water, but it is not designed to hold hot water, which can weaken types of PVC pipe.
Plastic pipes of all kinds are generally cheaper than metal alternatives.
CPVC Pipe
CPVC pipes are another plastic pipe option, coming in black or dark grey. The CPVC pipes are more flexible than PVC and can withstand higher temperatures of up to 200 degrees Fahrenheit.
CPVC pipes' more flexible structure means that you'll need to install supports every three feet or so to hold them up. Their higher heat tolerance makes them a good choice for transporting hot water, as long as you're careful to keep the water under 200 degrees.
Both PVC and CPVC pipes can emit toxic fumes if submitted to inappropriately high temperatures, making their proper use important for safety as well as effectiveness.
PEX Pipe
PEX is another plastic pipe. It's resistant to cold, acid, and corrosion. It lasts up to 50 years and provides excellent water pressure. It provides both strength and flexibility, making installation cheaper and easier.
A miracle product in many ways, PEX pipe does have some sensitivities you need to work around.
PEX pipes can be vulnerable to sunlight. They can also allow chemicals from the soil to leach inside and the chemicals in the pipes themselves can contaminate drinking water.
A variety of laws and safety measures counter the weaknesses of PEX pipes, making them an excellent option to consider.
ABS Pipe
Another plastic pipe option, ABS pipes are stronger than pvs pipes. Their robust design allows them to resist the cold as well as cloak the sound of running water. If you want to keep the sound of rushing water from invading your house whenever you use a sink, ABS plumbing pipes may be the solution.
Galvanized Steel Pipe
Galvanized steel pipes use zinc coatings to help them resist corrosion. While they do eventually succumb to the erosion of water, they still last 40 years or longer. However, once they do begin to wear out, components of the pipe can leak into your water, changing its makeup and coloring its appearance.
A strong and impact-resistant pipe, galvanized steel pipes can be a great choice if you expect your pipes to take a beating. On the other hand, the weight of galvanized steel pipes can make them a chore to install and replace.
Cast Iron
Cast iron is an old piping technique, but a good one. The cast iron pipe provides several advantages that make it a serious option for those looking for a high quality product.
Cast iron is extremely strong and durable. Cast iron pipes can last 75 years, or even up to 100 years in some cases. Its sturdy design makes it excellent for muffling the sound of running water.
Old cast iron systems could develop leaks very easily. Fortunately, modern improvements have made cast iron much more resistant to leaking.
Modern cast iron also enjoys a more consistent wall thickness than old cast iron. The new cast iron joining method is now happily free of the old lead seals which could end up contaminating water.
Naturally, such a powerful product is difficult to install and replace. It may be preferable for those looking for a very long term build that will last for many decades.
Black Iron
Black iron piping is still a relatively popular choice for gas pipes. It's stronger than plastic piping alternatives, which is of crucial importance for avoiding dangerous gas leaks. In extreme situations like an earthquake, black iron is much more likely to withstand than PVS piping.
As is typical for metal piping, it can be more expensive, as well as harder to install and replace.
The Right Pipe for the Job
Knowing the available types of pipes is crucial for finding the right option for you. We hope you've enjoyed this summary. For finding a Columbus plumber or learning the trade for yourself, check out our other articles.
Serving Columbus, Grove City, Gahanna, Reynoldsburg & Surrounding Area's
© 2018-2022 ASterlingPlumbingColumbus.com
– All rights reserved. –
Information on this website may not be re-used without prior written consent from A Sterling Plumbing.
Monday-Friday: Open 24 Hours
Saturday: Open 24 Hours
Sunday: Open 24 Hours
Ohio Licensed, Bonded, Insured
OH Plumbing Contractors License # OL-26324